Patch 4.3 Heroic 5-Man Guide – End Time
Included with Patch 4.3 were three new 5-man heroic instances, all which must be completed sequentially. Similar to the ones added in Patch 3.3 back in Wrath of the Lich King. The first out of the three is End Time. When entering End Time you will find yourself in a dull version of Dragonblight. A location that used to have a snowy, vibrant, and living feel suddenly turns into a dead wasteland. This my friends is the future of Deathwing's chaos.
For Nozdormu to grant you the ability to travel back in time before the Dragon Soul was hidden, you must defeat the creature that prevents access from both the future and the past. However, before you can confront the creature, you must fight two of four leaders, that may look familiar to you.
Echo of Baine:
Molten Axe: When Baine comes into contact with the lava, it causes his axe to inflict an additional 10000 Fire damage. Lasts 10 seconds.

Molten Fists: Much like Molten Axe, if a player comes in contact with the surrounding lava their fists ignite increasing melee attacks to deal an additional 1oooo fire damage. Lasts 20 seconds.
Pulverize: Baine slams the ground with his totem dealing 30000 Physical damage to enemies within 15 yards as well destroying the platform that he slams.
Throw Totem: Baine throws his totem at a random player dealing 60000 Physical damage as well knocking them back.

Throw Totem: After Baine uses this ability a player has the option to throw the totem back at Echo of Baine. Doing this inflicts 5% of his health, stuns him and increases his damage taken by 50% for 20 seconds. The totem will remain in its position for 20 seconds.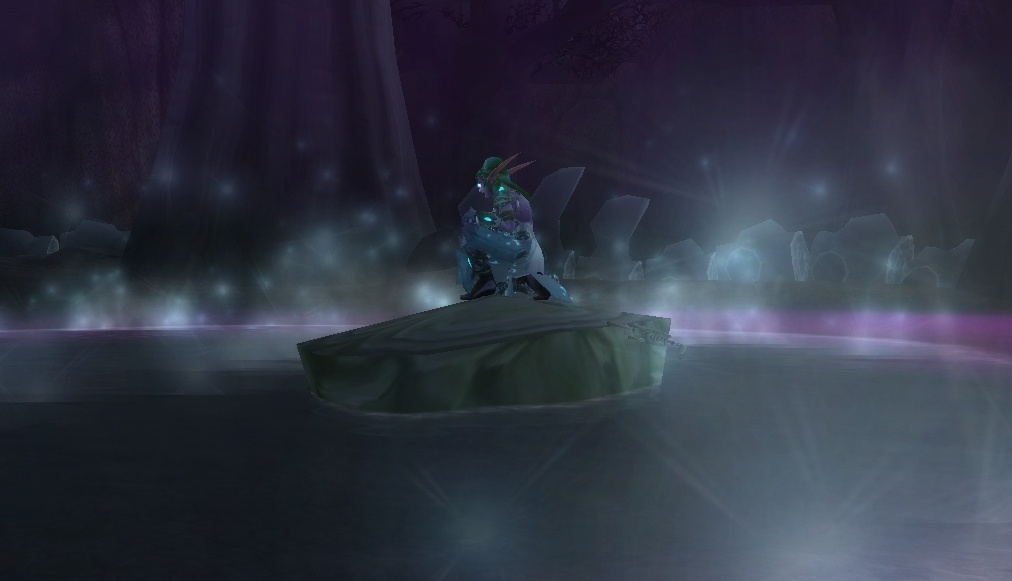 Echo of Tyrande:
Moonbolt:

Tyrande casts a powerful blast of moon energy at her enemy dealing 40000 Arcane damage.
Stardust:

Tyrande scatters a diffuse trail of star energy into the wind, inflicting 50000 Arcane damage to all players. Interruptable.
Eyes of the Goddess:

Tyrande summons forth the twin eyes of Elune, the Moon Goddess. Players cannot attack the Eyes of the Goddess.
Piercing Gaze of Elune: The Eyes of Elune travel in a circular motion around Tyrande, emitting the Piercing Gaze of Elune every 1 sec. Piercing Gaze of Elune inflicts 50000 Arcane damage to all players within 6 yards and silences them for 5 sec.
Lunar Guidance

: At 80% remaining health, Tyrande beseeches Elune for guidance. Tyrande is imbued with Lunar Guidance, allowing her spells to cast 25% faster. Tyrande gains a second stack of Lunar Guidance when she reaches 55% remaining health.
Tears of Elune: At 30% remaining health, Tyrande cries out for aid from the Moon Goddess. Tears of Elune rain from the sky for the remainder of the battle, inflicting 30000 Arcane damage to players within 4 yards.
Dark Moonlight: A pool of dark moonlight surrounds Tyrande, slowing spell-casting speed by 50% for all enemies within 15 yards. Healers need to avoid this.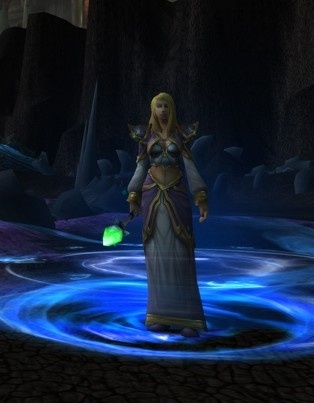 Echo of Jaina:
Flarecore – The Echo of Jaina hurls a growing Flarecore ember at the ground near an enemy. The ember explodes if touched, inflicting 5000-50000 Fire damage to enemies within 5 yds. If not exploded within 10 sec., the ember detonates and inflicts 94500 Fire damage to all enemies.
Blink – The Echo of Jaina teleports to a nearby location.
Frost Blades – The Echo of Jaina conjures three blades of ice and sends them flying forward. Enemies that collide with the blades are encased in a block of ice, stunning them for 5 sec.
Frostbolt Volley – The Echo of Jaina inflicts 20000 Frost damage to nearby enemies within 65 yards and reduces their movement speed by 30% for 4 sec.
Pyroblast – The Echo of Jaina inflicts 50000 Fire damage to her current target and an additional 5000 Fire damage every 3 sec. for 12 sec.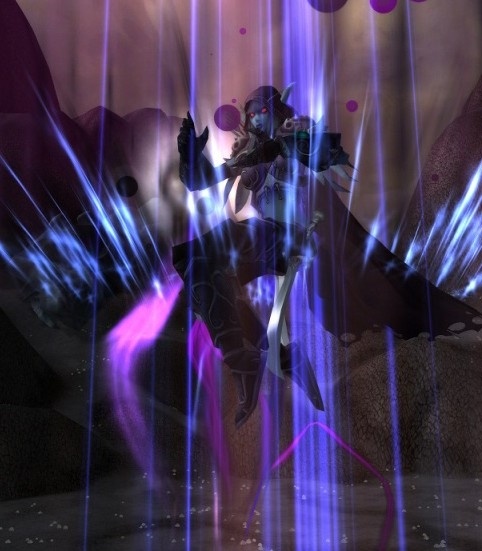 Echo of Sylvanas:
Wracking Pain

– Crossing any of the links between the Risen Ghouls or standing within the shadows behind the ghouls inflicts Wracking Pain on the player every second. Wracking Pain inflicts 55000 Shadow damage.
Risen Ghoul- When a Risen Ghoul reaches Sylvanas, it performs the Sacrifice spell.Destroying a Risen Ghoul will sever the link to other nearby ghouls, and remove the area of shadows behind it.

Sacrifice – Sacrifice inflicts 300000 Shadow damage to players within 11 yards of Sylvanas.
 Shriek of the Highborne – Sylvanas shrieks with anguish, inflicting 75000 Shadow damage on a random player and decreasing their movement speed by 50% for 30 sec.
Black Arrow – Sylvanas fires an explosive black arrow at a random player, inflicting 60000 Shadow damage players within 10 yards of the target.
Unholy Shot – Sylvanas targets a barrage of missiles at a random player, striking up to 3 players within 10 yards of the target. Each missile inflicts 30000 Shadow damage and an additional 25000 Shadow damage every 2 sec. for 10 sec.
Blighted Arrows – Sylvanas blights the ground in a 3 yard radius circle beneath a random player and leaps towards the sky. The blight inflicts 35000 damage every 1 sec. and reduces the movement speed by 50% of any player standing within it.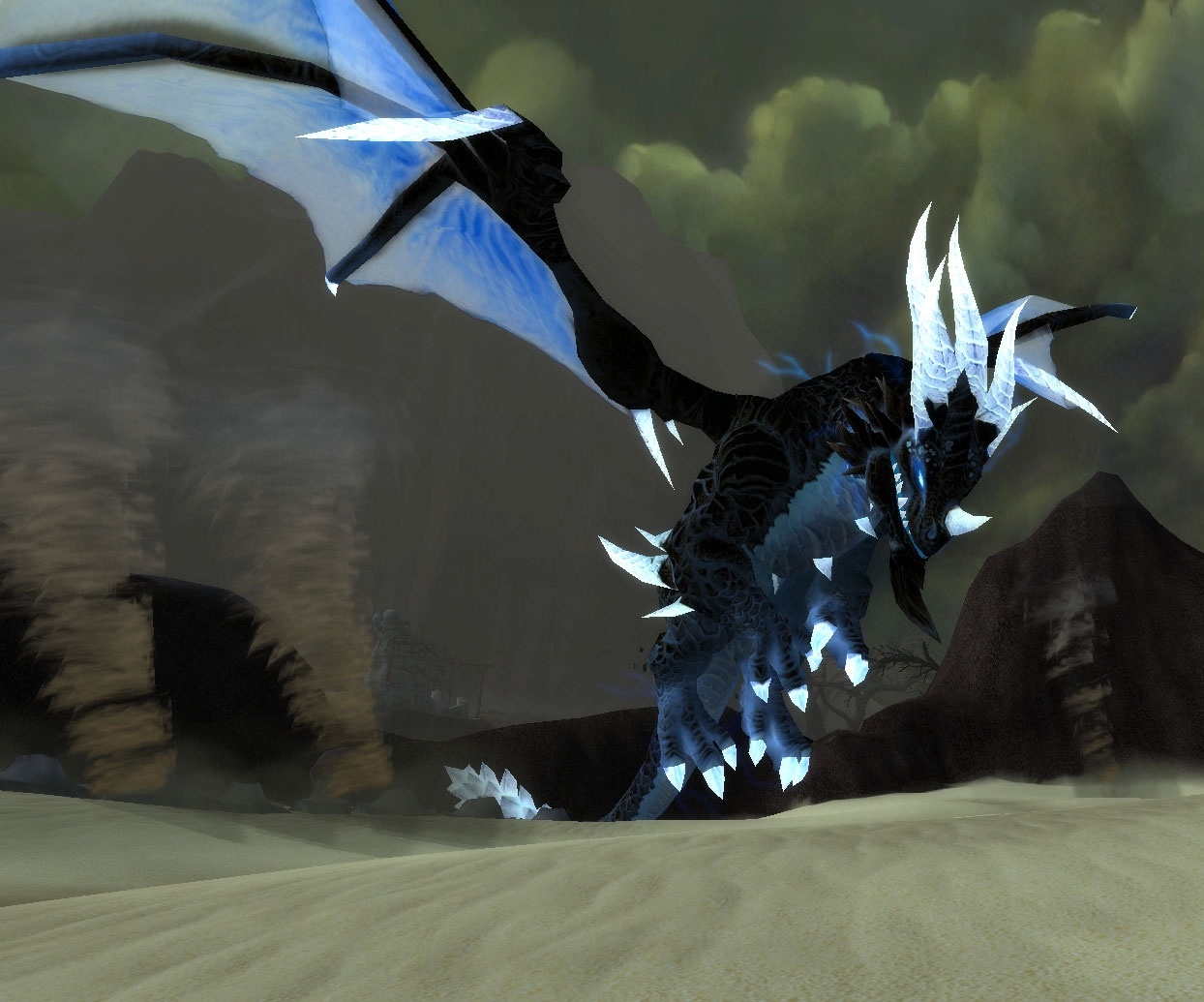 Murozond
Now it comes down to the big bad guy himself. Murozond. This boss has a whole new feature we have never seen before, going back in time. Yes, that's right. Back in time. At the start of the encounter you will notice five hourglass images indicating you can only use the hourglass five times to help defeat the boss. Try to use the hourglass at convenient times, when the healer or tank are dead, to avoid wasting a charge. Essentially what you want to do with this boss is blow all your cooldowns at the start because using the hourglass resets everything. Health, Mana, Dead players are all restored. Here are the rest of his abilities:
Temporal Blast:

Murozond inflicts 25000 Arcane damage to all nearby enemies and increases their Arcane damage taken by 10% for 20 sec.
Distortion Bomb: Murozond launches an orb of temporal energy at the location of a random player. When the orb reaches this location, it explodes and leaves an 8 yard radius area of temporal distortion. The distortion area inflicts 25000 Arcane damage every second to all enemies standing within the area.
Infinite Breath: Inflicts 71250 to 78750 Shadow damage to all enemies in front of the caster.
Blessing of the Bronze Dragonflight: Nozdormu is unable to assist the players directly, but grants them the Blessing of the Bronze Dragonflight. Blesses the target with the power increasing melee, ranged, and spell casting speed by 40% and movement speed by 40%.
Now that Murozond has been slain you can advance forward to the Well of Eternity where you will meet up with Illidan Stormrage and a few others!
If you liked this guide remember to check out the upcoming, Well of Eternity and Hour of Twilight guides!